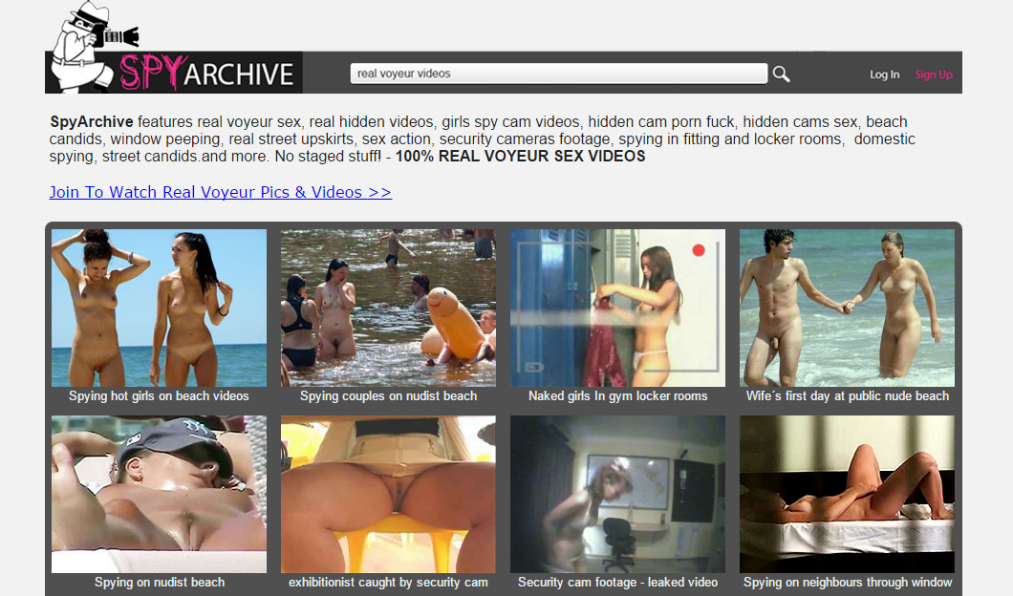 Month membership

$

29.95
30 days
3 months membership

$

59.78
90 days
Year membership

$

99.95
365 days
Spy Archive Review
Watching complete strangers having sex in their bedroom, or in a public places is always an arousing experience, and since today we all have cameras in our pocket, the time of the voyeurs have finally begun. The SpyArchive has a huge collection of voyeur porn videos, featuring some softer stuff like up-skirt shots, and lots of actual intercourses. In case you are a voyeur or you get turned on by watching hidden footages of unsuspecting couples, you have arrived at the right place. The SpyArchive launched back in 2012, so it's not an old portal, though it already has a great compilation.
It seems that there are daily updates here, and there are days when they add more than one video and photo set. As you read this, you can expect to find more than 2,400 videos and about 1,800 photo galleries in the members' zone. It's quite hard to believe that a site with voyeur and amateur porn can provide the members with exclusive content, but as you may see it, this site do have videos and photos you won't find on other sites. However, not all content is exclusive, since there are user-submitted stuffs too, and we know that anyone can upload anything to any site if he or she wants to.
The SpyArchive is a standalone site, and the already large collection and the regular updates will surely keep you busy for a long time. The site on its own has enough jerking material for you to keep you interested, and there is no actual need for bonuses… and you don't get any, at this time at least, there might be extras added in the future, who knows.
Tech
The home page where you land after you enter the site's address into your browser is quite simple. Under the heading you can jump into the middle of nudity and sexiness as you scroll downwards the page. The tour is just that: the medium thumbnails are the only preview you get here. In case you are looking for voyeur porn, you don't really need any kind of convincing, you should get straight to the joining page. When you log in, you may be a bit surprised, since the inner page is designed to look like that social site we all know but don't dare to name in reviews. On the top, you can find a search bar that may come in handy, though the videos and the photo sets are seldom tagged.
The best navigation tool you may find here is the Categories menu on the left side of the page. It doesn't really matter if you are saving or streaming the videos, because the quality isn't too high, so both options offer good playback. The scenes aren't long either so it's just quite certain that you will find watching them online a good choice; but you can save them if you want. The photo galleries are large, and among these sets, you might find some very good quality ones.
Girls
There is something arousing about amateur girls. It's probably the fact that your girlfriend, wife or occasional sex partner is an amateur chick, and if she would agree, you could easily shoot your own porn video with her. However, there aren't too many girls who could risk having sex in front of a camera, than try to get the footage off the Web. Luckily, there are guys, who don't really care about consent, and capture the action without the girl knowing thus they provide us with some hot voyeur porn. Sometimes none of the folks on the screen know that they are being captured and it's just much nastier. So, let us take a look at the girls. Since it's voyeur porn, you should get ready for some really hot. As far as it can be told, the chicks are actual girlfriends and wives, so they are all amateurs, just as the sex is.
These girls are very varied, you can peek into the bedroom of hot fresh cuties, just as into MILFs' and cougars'. Though there are cases when you can see the full body of the chicks, in most scenes, they are just shot from behind, from under or from above. This way you case boobs, assholes and pussies, just as their full silhouettes. Due to the nature of the videos, these are not staged nor scripted, everything happens occasionally and the sex is ruled by the couples' desires. This leads to a varied intercourses throughout the videos. Since the couples here are real ones, you can expect to see intimate moments too, but the sex on itself is really raw, uncut and simply arousing. You can't expect to find here too many heavy niches covered, though some of the couples are mixed ones, so you can enjoy some interracial sex, just as anal sex and amateur threesomes may appear. There are even lesbians experimenting on each other. Naturally, as you may expected, a large part of the videos and photos here are form the softer categories. There are shots taken in changing booths, solariums and locker rooms. The girls get totally naked in many cases, sometimes you have to guess what's actually happening.
The SpyArchive is a hot porn site. If the quality would be a bit better, it could be a really good one, but since HQ cams (especially security and spy-cams) are hard to come by, it have to settle with what it has. In case you enjoy being a voyeur and you get turned on by sneaking and peeking into other's private zone, the SpyArchive is a good choice. You don't have to take any risks and you don't even have to leave your room: just join the net, enter the site and enjoy being a voyeur.