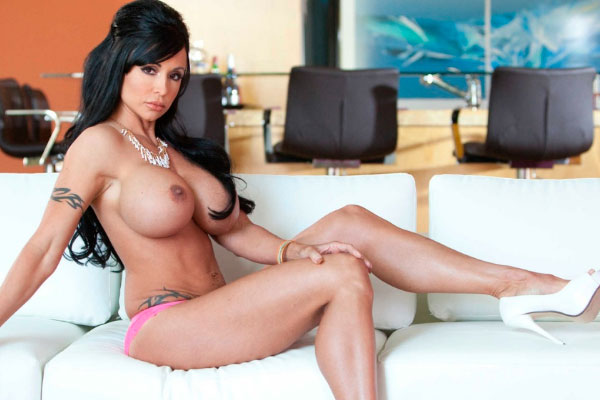 | | |
| --- | --- |
| Name | Jewels Jade, aka Julie |
| Birth Date | October 13, 1976 |
| Birth Location | San Diego, California, USA |
| Height | 5'4" |
| Measurments | 32DDD-25-35 |
| Number Of Movies | 300+ |
The early life
A jewel in the crown, Jewels Jade was born in San Diego, California on the 13th of October 1976. As a girl, Jewels was very academic and excelled in her formative years. A born performer, she took dancing lessons, played the accordion and was a trained opera singer. She also played soccer and rigorously trains every day, and thus, boasts of a muscular physique. For the past decade or so, she has been bodybuilding and her Navy Seal husband takes a fair share of credit for her training regime. 
Jewels had her first sexual experience with her boyfriend when she skipped her prom and seduced her boyfriend to fuck her in her room. Her roommate was sex-crazy and slutty, who seemed to have fucked numerous studs and she encouraged Jewels to get fucked. Jewel's roommate taught her the art of sucking dicks by sucking on a banana and taught Jewels to insert and shove cucumbers into her pussy. Though she married her boyfriend when she was 20 years, she divorced him after 6 years, and this paved her entry into the world of porn. Had it not been for the divorce, she would have been pursuing a career in the medical field as a nurse. One industry's loss is another industry's gain, and that is what Jewels has given to millions of connoisseurs across the world. 
Her Career in the porn industry
Jewel's entry into the career world was a gradual one and started off with attending strip clubs and stripping for men. Jewel's husband played a major part because he was a porn fanatic and did not stick to one job. Jewel started working as a stripper at Pacers Showgirls. Nervous at first, her dancing and singing gave her the necessary confidence to carry off in style. Having been a performer all her life, Jewel's performances as a stripper was noticed and she networked with numerous performers and professionals from the porn industry, prominent among them being Peter North and Jewel D'Nyle. She was invited to be a part of Girls Gone Wild masturbation shoot, and the rest is anybody's guess. Her first porn scene went on to become a hit in the porn world, which saw her getting more offers.
Her debut scene was an anal sex scene with Shane Collins in 2001. Jewels' original name is Julie and she loved jade, her favorite precious stone. Thus, she took the screen name of Jewels Jade. Since her debut, she has featured in over 300 scenes. She was active from 2001-2003 and then from 2007 till present. Her prominent body jewelries include her nipple and navel piercings and tattoos.
Top porn sites to watch Jewels Jade videos